Youth Soccer in the Heart of Boston
Revised 8/16/17: To be added to email list or questions: southendsoccer@gmail.com
South End Soccer is in the process of updating to a new registration system and website for Fall 2017, and on-line registration is delayed.
Fall 2017 In-house Rec. League (Grades K-6)
On-line registration open by Aug. 25th. Email with updates to follow.
See calendar below for dates: Season starts Sept. 16th.
All rec. players MUST to attend Sept 7 or 9 for Assessment.
Fall 2017 Travel Teams (Grades 3-12)
Registration and tryouts happened in June. All players have been invited to team (expect high school ages, details to follow at end of August).
We do have opening for Grade 5 and 6 girls and boys - email southendsoccer@gmail.com for details
See calendar below for dates of first and last games (coaches to contact players directly with practice schedule, games schedules to be posted on BAYS.org after Labor Day).
Volunteers needed!
Coaches: if you are are interested to help with coaching in the fall, please email registrar
Administation: On field registrars and table staff needed on Sep. 7, 9 and during season, please email registrar
Interested parties email: <sesoccerregistrar@gmail.com>
_____________________________________________
CALENDAR
______________________________________
FALL 2017 - 3 Program Options
1) RECREATIONAL IN-HOUSE LEAGUE (Grades K-8, ages 5-14)
Online registration will open August 15th
In person registration & assesments on Thu. Sept. 7 and Sat. Sept. 11 (Details to follow in July)
This is a fun, developmental league that is open to any interested players
All registered players placed on a team as space allows, waitlist if needed
Season runs Sept. 16 to Nov. 19th, schedules vary for age groups with practices one day a week and games on Saturdays or Sundays. Schedules are released beginning of September
Fee: free and any donations appreciated, uniforms supplied
2) TRAVEL TEAMS (Gr. 3-8 & High School, Competitive play in BAYS league)
Players that commit to play travel will have practices 2x week & games on Saturdays from Sep - Nov 2017 and Apr - Jun 2018 (5 home and 5 away games at towns in Greater Boston)
Players attend tryouts in June, offer letters and placements sent in July
All players that tryout may not be offered a place on a travel team - selection by skill, attitude and commitment ability
Players must be at least 9 years old and in 3rd grade or higher in fall of 2017 to play on travel teams.
Below is Grade/Age requirements of BAYS league - SE Soccer players two year age groups (Grade 3+4; Grade 5+6; Grade 7+8 )
Fee: no required fees, suggested donation amounts only, uniforms supplied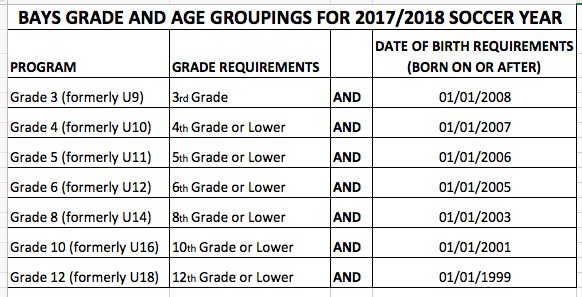 3) TOPSOCCER
___________________________________________
SES PHOTO Library Launched
SES VIDEO
VOLUNTEERS & COACHES NEEDED
MORE DETAILS - Join great community of volunteers that are part of adminstering South End Soccer to Boston Youth and giving over 400 urban youth the opportunity to play.
Questions: email sesoccerregistrar@gmail.com
SPONSORS OPPORTUNITIES
- Get your business name on jerseys and give youth in Boston the opportunity to play for FREE!
PATHWAYS TO PLAY WITH SES
1- SES Recreational, In-House League
(Coed teams for Kindergarten to 8th Grade)
Teams: Coed teams for Kindergarten, Gr. 1/2; Gr. 3/4; Gr. 5-8
When: Fall only (Sept - Nov.); registration in Aug./Sep.
Time Commitment: Kindergarten Clinics: Saturdays 9-10am at Rotch Field; all other ages practice one day a week & games on Saturdays or Sundays
Locations: All games/practices in South End & Roxbury
Cost: free, no fees to play
Selection: all register players placed on a team, regardless of level of play, as space allows (waitlist may apply)
2- Travel Teams: South End Rush
2- Travel Teams: South End Rush
(Boys and Girls Teams, 3rd to 8th Grade)
Teams: Girls & Boys Gr. 3/4, Gr. 5/6, Gr. 7/8; participant in BAYS league
When: Tryouts in May/June for the upcoming travel soccer season (each team plays in fall & then spring)
Time Commitment: practices 2x a week and games on Saturdays
Locations: home games/practices in South End & Roxbury; away games in Greater Boston
Cost: No required fees to play for all players invited on a team, donations appreciated at any level
Selection: All players may not be asked to be on a travel team and those selected will be placed on team to best suit their development; selection based on skill, commitment level and attitude
(Grades: 9th to 12th)
These teams in partnership with AmericaSCORES
More information: Contact Ethan Goldman, egoldman@americascores.org
3- Club Teams: New England Rush
(Grades: 3rd to 12th)
Tryouts in June for following fall/spring
Practices/Home Games in Medford or Bedford; Away games throughout state
More information: contact New England Rush, click here for more information
4- TOPSoccer: Providing Soccer to Youth with Disabilities
Fall of 2016, SES launches TOPSoccer - a US Soccer program designed to reach and meet the needs of children aged 5-19 years with physical and/or mental disabilities. The program caters to player development rather than competition. TOPSoccer takes the kids off the sidelines, allows them to participate in the game of soccer, and have the opportunity to develop a sense of belonging on and off the soccer pitch as well as learn the value of being part of a team, improve their self-esteem, fitness and social skills. But most importantly, enjoy the great game of soccer!
SES FAQs & More
IMPORTANT News from US Soccer & Mass Youth Soccer
Updates from Mass Youth Soccer Association on new heading policy as per US Soccer manadate
Sideline Etiquette:
Please click here to read US Soccer guidelines on parent/spectator role on sidelines.
South End Soccer looks to each and every coach, player, parent and spectator to be the example of best in sportsmanship and appropriate sideline behavior.
SOUTH END SOCCER OVERVIEW
South End Soccer is a non-profit 501c3 organization committed to providing high-quality soccer programming to children in Boston's South End, Roxbury, Chinatown and adjacent neighborhoods. Our goal is to give children between the ages of 5 & 18 the opportunity to play soccer and learn to engender a love of the game regardless of prior experience or economic means.
Our recreational league plays from September through November, we provide futsal training in the winter, soccer enrichment programming to neighborhood youth programs in the summer, and in 2014 we launched travel teams through a partnership with New England RUSH which play in the fall and spring. To increase opportunities for youth across the city, we partner with Boston Parks & Recreation, Mass Youth Soccer, AmericaSCORES and other youth serving organizations. We are a member of Mass Youth Soccer, and follow their philosophy of coach training, instruction and play.
In 2015, we spearheaded the Boston Youth Soccer Summit, bringing together youth programs and muncipalities from across Boston to collaborate and create more opportunities for coach and player development, and to break down any barriers that hinder urban youth having access to play the world's most popular sport. Many thanks to Northeastern University, Boston Parks and Recreation and Mass Youth Soccer Assoc. for sponsoring this initiative.
Through the generous support of parents, community members, colleges and universities, local businesses and organizations, we are able to provide programming at no cost - many thanks to all supporters for being leaders in making it possible for any child to get on the field and join the fun!